Andile Dlamini From Broke
What are your main inspirations?
My greatest inspiration has to be the Broke Boys. I live with these gents, I know their real life, I know every challenge they face, I know what they have been through to get to where they are, I have seen them at their highest and their lowest, but more than anything they are my greatest inspiration because I know why they are doing this. These homies are just trying to send their siblings to school and provide a better life for their families. Just being in their presence is so inspiring, it keeps me going… besides that, I'm inspired by my surroundings, I'm inspired by what's happening in my life at the moment.
What was the biggest turning point in your entrepreneurial journey?
I think the biggest turning point in my life was the 2020 lockdown. I got to spend time at home and the opportunity to get back to the drawing board with my brothers (broke boys),I feel like it was at that point I realised that this is what I want to do and re-launching the brand in the midst of lockdown just gave me the confirmation this is definitely something I can do. Not just for myself but for all those like me and for everyone coming from where I come from.
Quels sont tes principales inspirations ?
Ma plus grande inspiration vient des Broke Boys. J'habite avec eux, je connais leur vraie vie, je connais tous les défis qu'ils doivent relever, je sais ce qu'ils ont dû endurer pour être là où ils sont aujourd'hui, je les ai vu à leur plus haut comme à leur plus bas, mais plus que tout, ils sont ma plus grand inspiration car je sais pourquoi il font ça. Ces mecs essaient juste d'envoyer leurs frères et sœurs à l'école et d'assurer une meilleure vie à leurs familles. Rien que d'être en leur présence est inspirant, ça me donne l'envie de continuer… Sinon je suis inspiré par ce qui m'entoure, par ce qui se passe dans ma vie en ce moment.
Jusque là, quel a été le plus grand tournant dans ton parcours entrepreneurial ?
Je pense que le plus grand tournant dans ma vie était le confinement de 2020. J'ai pu passer du temps à la maison et avoir l'opportunité de me remettre au dessin avec mes frères (les Broke Boys). Je pense que c'est à ce moment que j'ai réalisé que c'est ce que j'ai envie de faire et relancer la marque au milieu de la pandémie m'a confirmé que c'est complètement quelque chose de réalisable. Pas juste pour moi mais pour tous ceux comme moi, qui viennent du même milieu.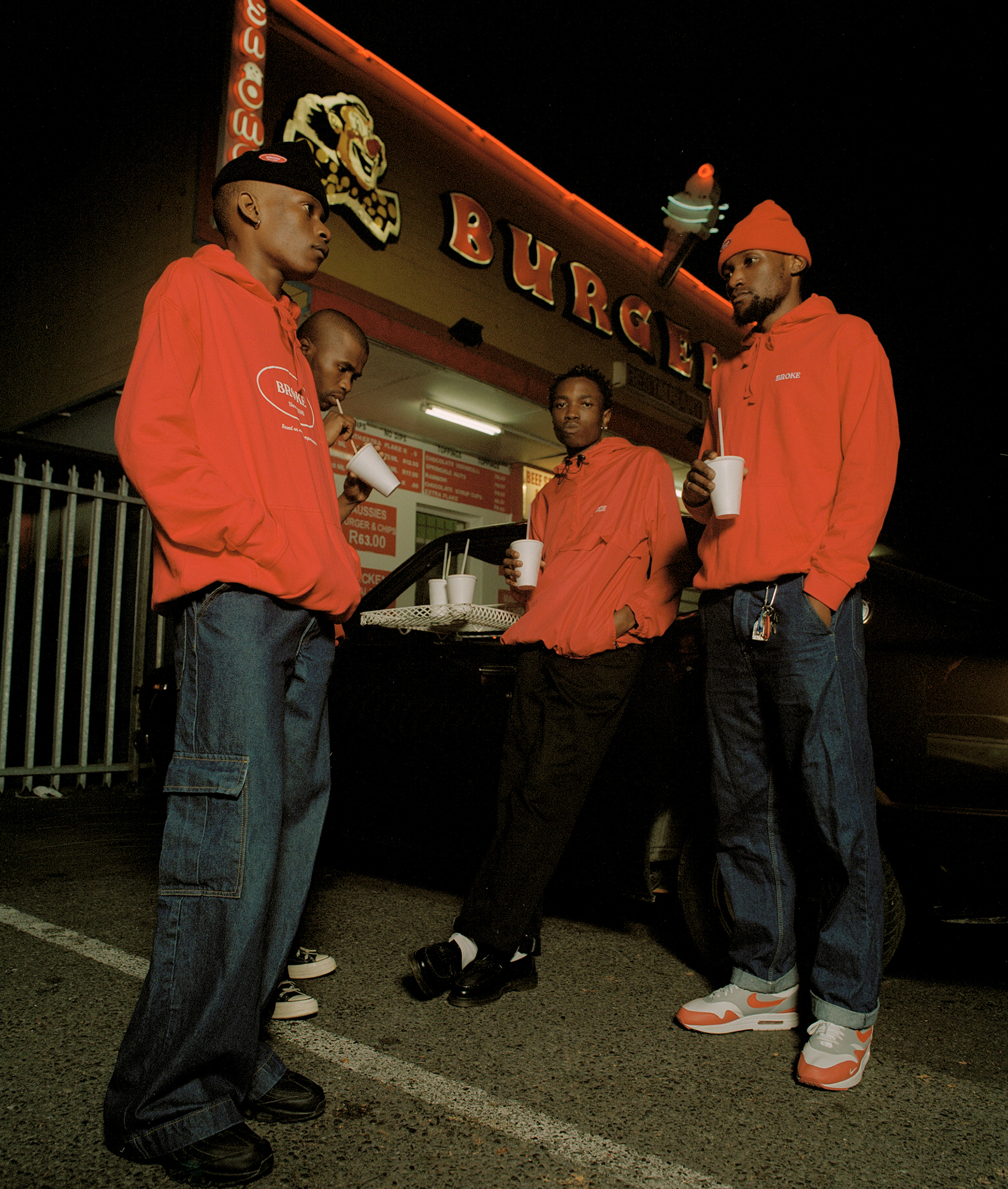 How would you describe your creative process?
My creative process is pretty simple. It all starts with what me and my friends are into at that moment, what we are wearing, watching, listening to… and so I try to combine all those things and find the best way to communicate all that. Take for example our latest collection which was built around the expression "The world is yours". This idea came from me rewatching Scarface for the 100th time and finding Tony Montana and his friend's story resonating so much with mine. They get to Miami without money and live in the shelter but they end up building one of the biggest and strongest empire, which I felt is where we are as the BROKE collective. We all come from different places around South Africa (none of us are from Cape Town ), and I felt that just like Tony Montana, we had overcame a lot to get to where we are today. Especially considering the disadvantaged backgrounds we come from. Hence we also couldn't just do a normal drop, we had to go big and do an independent runway showcasing to communicate that you can literally be anything and you can achieve whatever you want. It doesn't matter where you come from because The World Is Yours .
What piece of advice would you give to young aspiring designers?
The best advice I can give to anyone is: The World is yours. You can literally be anything and you can achieve whatever you put your mind to. It's always important to do everything with intention, to understand why you're doing it and for who you're doing it for.
What's next for BROKE?
I don't want to jinx anything, but we are looking to grow the brand and tap into the rest of Africa and of course the whole world at large. Haha I don't want to say too much…but what I can say is that we're going to need a bigger pipeline, because there's definitely more ideas and stuff coming.
Quel est ton processus créatif?
Mon processus créatif est assez simple. Ça commence par ce qui intéresse mes amis et moi à un moment. Ce qu'on porte, ce qu'on regarde, ce qu'on écoute… J'essaie de combiner toutes ces choses et de trouver le meilleur moyen de les communiquer. Par exemple, notre dernière collection a été faite autour de l'expression "The World is Yours". Cette idée est venue après que j'ai regardé pour la 100ème fois Scarface, j'ai trouvé que l'histoire de Tony Montana et de son pote résonnait avec la mienne. Ils arrivent à Miami sans argent et vivent dans un refuge mais ils finissent par construire l'un des empires les plus grands et solides, ce qui m'a fait pensé à là où on en est arrivé avec le collectif BROKE. Nous venons tous d'endroits différents en Afrique du Sud (aucun de nous ne vient de Cape Town), et j'ai pensé que comme Tony Montana, nous avons traversé beaucoup de choses pour en être là aujourd'hui. Surtout en prenant en compte les milieux défavorisés desquels nous venons. C'est pourquoi on ne pouvait pas se contenter d'un drop classique, nous nous devions de voir grand et faire un défilé indépendant pour communiquer que tu peux littéralement être ce que tu veux, accomplir ce que tu veux. Peu importe d'où tu viens, car The World Is Yours (le monde est à toi).
Quel conseil donnerais-tu à des designers/entrepreneurs africains en herbe?
Le meilleur conseil que je peux donner à n'importe qui: le monde est à toi. Tu peux être ce que tu veux et accomplir ce que veux si tu t'y mets. C'est toujours important de faire les choses avec intention, de comprendre pourquoi tu le fais et pour qui tu le fais.
C'est quoi la suite pour BROKE?
Je ne veux pas nous porter malheur mais nous cherchons à agrandir la marque en élargissant au reste de l'Afrique et bien sûr au monde entier. Haha je ne veux pas trop en dire, mais je peux dire qu'il va falloir faire de la place parce qu'il y a plein d'idées et de belles choses qui arrivent.